Welcome to JRK Industries Pvt. Ltd.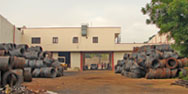 JRK Industries is a trusted name with the leading armoured cable manufacturers in India. With its provision for being able to double plant capacity, the company is now poised to address the requirements of the Middle Eastern and European markets.

A dynamic response system keeps this team ready to meet your requirements for Quality products. JRK products are manufactured in a new environment friendly plant, which is a single roof facility for the complete process, ensuring excellent control and quick customer servicing.
Picture Gallery